There is no snow but that didn't inhibit us too much. It turned out as a perfect instruction week for the girls...
Miss H is still plenty young to really ski - she can't at all figure out how to make the pizza wedge- but we made it work, Kyle would ski with her attached to his leg
like this...
And in would put her between my legs and she felt like she was skiing. I placed my hands at her side to steady and guide her but Most of the time she would put all her weight on my hands and just hang there - her own little ride down the mountain. On spots that were pretty flat (so she couldn't gain speed) we let her ski without our help, and she LOVED it! At one point she accidentally turned right at went off the hill before I could catch her and she landed in a little puff of a snow bank, I went down right after trying to catch. Her. It took a good 10 minutes for us to get out. Afterwards we decided that hot chocolate in the cabin would be our next action!
Miss E really took off this last week! It was amazing! From barely linking her turn to keeping up with the older kids! Going off jumps without any fear!
She's so little that one jump (at the bottom before the jump slopes upward) she got stuck in the ditch! She laughed and laughed! Then a boy came to help her, he offered his pole and when she went to pull herself out he toppled over on top of her! Then they were both laughing- phew! I was afraid it would be a deal breaker. She also spun around while skiing. She was going a bit too fast and tried to make the pizza wedge but her ski got stuck in someone else's track! Her legs went wide and to the right, she put her hands down to steady herself and that spun her all the way around!!!!! When she was headed back down hill she just stood herself back up straight and continued on!! We called it her first 360! She loved it! And she kept on trying to replicate the action but without success. Oh well it was great fun the first time!
We decided next time we go out she needs poles & a helmet!
Kyle was ingenious with the sled, we used it all week!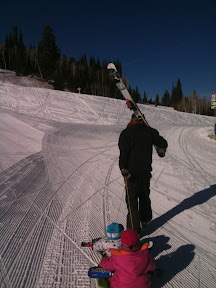 I love skiing with my children. (I love skiing period) but with my girls it's so special to see them enjoy their success- to sit with them on the chair lifts and be silly together. To watch them progress and fall in love with one of my favorite sports. What a wonderful week!!!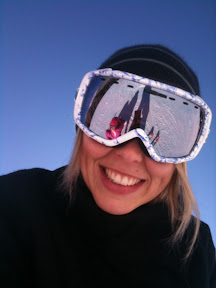 Brit